We made it! 🙂
I cannot believe the year has gone by so quickly! I have thoroughly enjoyed teaching your child this year. They have all grown so much!  Thank you for sharing them with me.  I wish them all the best in 5th grade!
Thank you for the raffle donations this time and all year!  Everyone took something home Thursday. Here are a few pictures from our week.  We gave each other "turtle compliments," we had the annual staff vs student dodge ball game, and we had a "book tasting" to see what we would like to read this summer!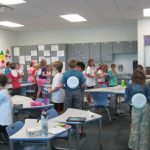 Here is our 3 Words Video from the 4th Grade Celebration Night.
Happy summer!!