The Second Continental Congress met in Room A203 today!  Delegates from the 13 colonies were represented.  As loyalists and patriots we debated whether we should declare our independence from Great Britain and the fate of the colonies!  The debate was well argued and rebutted, and they adjourned to take time to determine the next course of action.  We had a great time with this reenactment, as it was a culmination of all of our historical reading and researching up to this point. Great job, delegates!  Here are pictures from the day they planned what to say as teams and from today's meeting.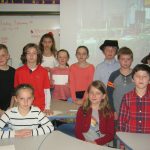 While researching the American Revolution we discussed how the point of view of the author makes a difference.  We looked at a book that tells the story or the American Revolution from both sides and how perspective matters!
In writing we caught up on our first three chapters of our American Revolution book.  We have a chapter that tells briefly all about the revolution, a chapter on one event that led up to the revolution, and a chapter that is told in first person from the point of view of someone who was at a particular event like the Boston Tea Party.  Next week we will write an essay explaining why that particular event was important to the American Revolution.
In math we are still working on fractions.  We are adding and subtracting simple fractions as well as mixed numbers.
In social studies we completed our final project for African American History month by creating a quilt square representing four concepts, people, or words that we thought were significant.  These quilt squares will be on display during conferences.
Important Dates
Wednesday and Thursday, February 28 – March 1 – Parent Teacher Conferences
Thursday and Friday, March 1 and 2 – 1/2 days
Friday – Sunday, March 30 – April 8 – Spring Break